General Data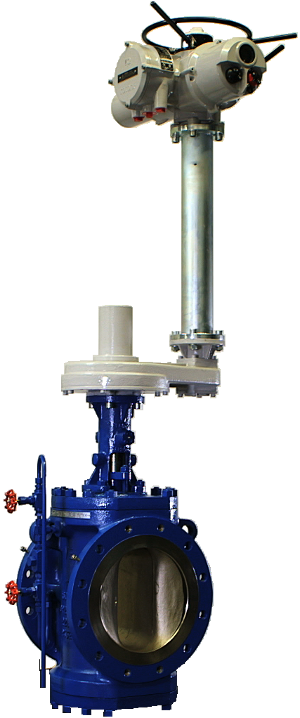 Extensions
The VE® Dual Expanding Plug Valve can easily be supplied with vertical and/or horizontal extensions. These are custom made and our sales team will require detailed customer information when the valve is ordered.
1 Design, dimensions and marking
Design as per API 599 & API 6D
Face to face as per ANSI b16.10& API 6D
Flanded ended as per ANSI B16.5 / EN-1092-1
2 Characteristics
Friction free
Dual expanding
Double block & bleed and double isolation & bleed (according to API-6D/ISO14313)
3 Construction
3 Parts construction: body, lower plate, upper plate
Trunnion mounted
Antistatic design
Seating slips (slips are replaceable through the lower
or upper plate)
Reduce bore or full bore
Low emission packing & gaskets according to
ISO 15848-1
Electrolytic niquel plating - ENP
Stud & nuts: anticorrosion treatment
4 Standard execution
ISO 9001:08
PED 97/23/EC
Atex 94/9/ec (CAT II 3 G/D T1 to T4)
Fugitive emission certificate according to
ISO 15848-1
Fire safe according to API 607
5 Flanged connections
ANSI B16.5:

Raised face smooth finish, stock finish or ring type joint

ASME B16.47 Serie A (MSS-SP-44) or Serie B:

Raised face smooth finish, stock finish or ring type join
(applicable for valves ≥ 30")

Top of flange as per ISO 5210 (f10 / f14 / f25...)
6 Marking in accordance with
European directive PED 97/23/EC
API 6D
MSS-SP-25
7 Casting material
According to API 6D / ASME B16.34 / EN 1092-1
/ PED 97/23/EC
8 Elastomers material
Viton A / B / GF
HNBR
Multi Seal ERT
9 Testing according to
API 6D
API 598
EN-12266-1 / EN-12266-2
BS 6755 part 1
10 Operation devices
Handwheel
Gear box
Actuator linear / multi turn
Pneumatic actuator
11 Bleed systems
Manual body bleed
Thermal relief upstream
Manual body bleed with thermal relief upstream
Automatic body bleed
Remote leak detection system
Bi-directional body bleed with thermal relief
12 Bottom drain plug
13 Optional
Limits switches
Locking device
Cable gland
Extensions
There are several possible extensions, please contact our technical engineers to help you with the right option and dimensions. Where valves are located in an elevated, difficult to access position, the VE® Dual Expanding Plug Valve can be provided with chain-wheels for easy operation.
Standard Bill of Material
| Part | Description |
| --- | --- |
| Body | ASTM A 216 WCB + ENP |
| Lower plate | ASTM A 216 WCB + ENP |
| Upper plate | ASTM A 216 WCB + ENP |
| Plug | ASTM A 216 WCB + ENP |
| Slip | ASTM A 536 80-55-06 + Viton A + Manganese Phosphate Coating |
| Yoke | ASTM A 216 WCB |
| Backseat | ASTM A 182 f6A |
| Gland | ASTM A 182 f6A |
| Packing | Graphite |
| Gland flange | S355J0G3 |
| Gland stud | ASTM A193 B7 + Anti-corrossion treatment |
| Gland nut | ASTM A194 2H + Anti-corrossion treatment |
| Gasket | PSW. AISI 316L + Graphite |
| O-ring | Viton A |
| Friction bearing | AISI 316L |
| Body plate studs | ASTM A 193 B7 + Anti-corrossion treatment |
| Body plate nuts | ASTM A 194 2H + Anti-corrossion treatment |
| Coupling cam | F158 cemented |
| Stem | ASTM A 182 F6A |
| Cam pin | 17-4PH H900 |
| Guide pin | 17-4PH H900 |
| Radial bearing | Standard |
| Pin plate | ASTM A 105 |
| Pin plate bolt | Steel |
| Grease fitting | Stainless steel |
| Yoke stud | ASTM A 193 B7 + Anti-corrossion treatment |
| Yoke nut | ASTM A 194 2H + Anti-corrossion treatment |
| Drain plug | ASTM A 105 |
| Bleeds | Stainless steel |
| Eriks VE name plates | Stainless steel |